Last night, as tradition would have it, the gang attended UCB's "Dirtiest Sketch Show - Holiday Themed Edition."
By comparison, I would like to make it clear that none of the following things equal 'dirty':
- gunk-filled braces
- plaque-stained teeth
- chewed-up rubber bands
- used dental wax
- dirty dental floss
What IS dirty, thanks to the UCB "Dirtiest Sketch Show":
- ribbons coming out of rear ends
- dirty Santa's and young boys
- robes tied to private parts that like to move grandma's wheelchair
- whipped cream used for anything
- 2 girls. 1 cup
- Anne Frank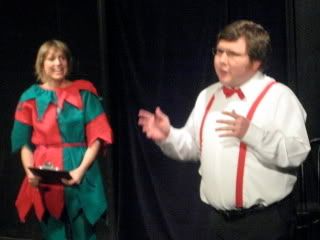 Thank you to our host, Michael Busch, who's show has yet again fulfilled all expectations.
Thank goodness I'm free till next year. Did I mention this show was at midnight?