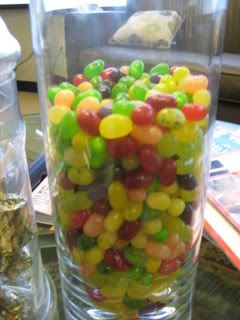 This beautiful vase of heaven is what the Wired Lady gets to stare at all day long, as it sits on the boss's coffee table. Why????????????????????????? Why meeeeeee???!!!!!!!!!
And I will admit, I broke down today and tried having a bean. As expected, I failed. There was no enjoyment sucking the sugar off, then downing the bean like a pill -- as to avoid sticky accidents with brackets. It was a complete failure but I was desperate.
Some may say they ate all kinds of these goodies when he/she had braces. All I have to say to those nay-sayers is, yes...I did too...but that time I wasn't paying for them.
And for the record -- Marshall, if you ask me for gum one more time I will kick your ass.