Don't get me wrong, I always enjoy the weekend call from Mom. However, lately I have noticed a new standard question always asked within the course of the conversation. That question -- "How are the braces?"
I can understand, "How's work?" and "How was your weekend?" but...how do I respond to, "How are the braces?" Um...well, they are feeling indifferent at this moment. They had a rough couple of hours after the cashew snack and burger lunch, but currently they are...fine?! I dunno! Is it sad that at 25 my mom asks about my braces?
Wait....I know the answer.
Off to Steve's with my zipper in hand...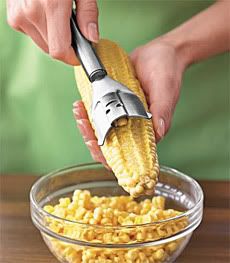 Still lovin' summer corn.
And no, these are not my hands.