Today my boss's daughter introduced me to the world of the Star Dolls. For those of you who try to stay away from children, Star Doll is a website that's basically every girl's 'paper doll heaven.'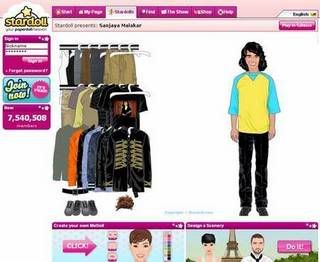 Here is an example of how you can dress Sanjaya. What fun!
Anyway...after explaining to me how she created a 'Me Doll' to look like mua, I believe the boss's daughter's exact quote was...
"Look! My Me Doll has braces like you!....
She's UGLY!"
Hey, at least the Star Doll franchise is supporting the wired community. One day till vacation!