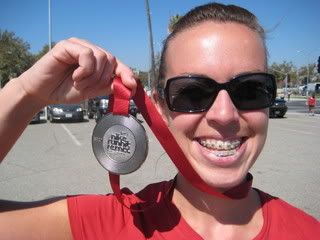 That's right...the Wired Lady DOMINATED (ie...finished without medics needed) the Nike Remix Run this morning. To be honest, I was petrified going into it. I was sure I would be reliving my middle school days of dry heaving after being forced to run the mile in gym class...in BRACES!
But hell no...totally ran 5 miles -- no stopping. Shocking, right? I'm still shocked myself...along with my throbbing feet.
Let's just forget the fact that the Nike Remix Run included beer stands and an MC Hammer performance afterwards. That's right, I am so hardcore.