After work, I ran to Best Buy to stand in line with my fellow braced-faced teenage friends to purchase...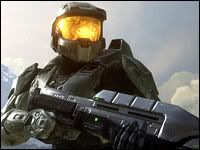 HALO 3!!!! Wooo hooo! Finish the fight! Awesome! My life is complete. Um....
PSYCH!!
Instead, I spent my evening doing bicep curls with my HUGE-ass bottle of Listerine.
Some people are proud of their big cars, I am proud of my family-sized bottle of my favorite 24-hour antiseptic.
How cool am I?
My life has hit an all-time low.