Last night was the big Boardman High 10-Year Reunion . Wired Lady brought the braces and, I'd like to think, brought some fun. Below are a few observations from attending my first-ever class reunion of a boyfriend who lives in the great state of Ohio.
1. Boxed wine and beer only = classy reunion
And really, I was fine with this. What does this say about me?
2. Swing dancers exist at all high schools.
3. Fun was found at the Maronite Center, diversity was not.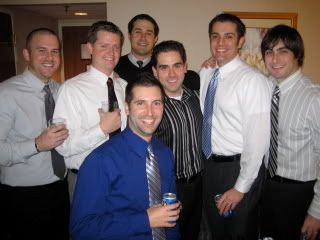 4. Ohioans know the Cupid Shuffle, not Souljah Boy.
Surprising, I thought.
5. Dental basket raffle giveaways rock!
6. Wired Lady didn't win.
But Steve did! Seriously, who else would have wanted that basket?! The biatch who won my basket totally didn't need it.
7. Know the rules of Ohio before attending.
8. I would not have made the Boardman HS football team thanks to the size of my head - yet again, my handicap.
9. School spirit was in attendance.
10. Wires were not. Wired Lady = only wired adult at pre-party, party, and after-party.