I used to spend my Shopping Saturdays at Nordstroms, Macys and the Gap. Now I get all excited about shopping at...
RITE AID!!!!!!!!!!!!!!!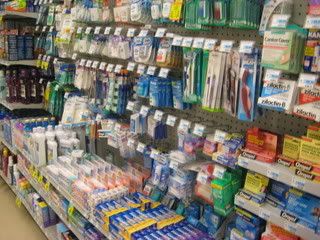 That's right people , props to Rite Aid for having the best dental selection in town. I won't even tell you how many minutes I spent analyzing this aisle today.
I was on a mission - a mission for a high quality toothbrush and floss. I was wooed by fancy words like 'ultra' and 'pulsar.' Rightfully so, I selected the Oral-B Pulsar Pro-Health Toothbrush and Oral-B's Ultra floss. Listen, I will admit, I had a coupon on the floss but even so...I liked the word 'ultra.'
All excited, I creeped my ass through traffic to get home for a well-deserved dental massage.
My review....
D+
The floss was simple and comfortable, as promised on the box, but the "fluffy material designed to avoid irritation" only caused more trouble that it was worth. It was totally limp! AND I was forced to use....the blue, plastic floss guiders. Ugh! Totally not worth my time. In the end, after all that work threading the damn thing each time, my teeth didn't even feel all that clean. A totally bummer.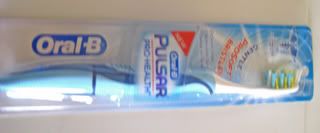 B-
Hell, it's a toothbrush. It cleaned. But seriously, where the hell were the "pivoting and pulsating bristles?" Um...Oral-B, stop seducing us with fancy language. Sure you fooled the Wired Lady into buying your product (damn!) but...I will think twice next time...I will. All in all, it was a nice massage for my gum line but I guess I'm just not a fan of a soft brush. In my mind, pain is glory. Thanks to the comfortable and pretty handle grips, I was persuaded to grade above average.
I hope Rite Aid is nicer to me next time. Oh well...
off to babysit for my favorite pre-teen who already had her braces...removed!