I kid you not, people at work today thought I chose to wear the poncho as a fashion statement. Seriously! Many people (especially men & my boss = super) did not 'get' the "Ugly Betty" joke...even on HALLOWEEN!!!!!
I swear, it was 3 PM (over half-way through the day) and someone in my boss's office asked, "Is that a blanket?" I said, "Nooooo! I'm Ugly Betty." My boss (also in the room) looked up and said, "Oooooooh" (insert sigh of relief her assistant hadn't jumped off the deep end).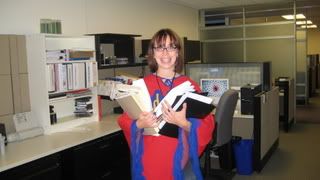 This means a few SIGNIFICANT things...
1. I look so much like UGLY BETTY every day of my life -- no one noticed I was in costume
2. People think I have awful fashion sense and were not taken aback by the enormous and brightly colored Guadalajara 'blanket' I was sporting all day
3. My braces are a year late -- Ugly Betty was sooo the cool costume last year. This year, people thought I just looked sad.
Next year, when I re-use the costume because I am still the freak in braces, maybe I will be considered 'vintage?' That would be cool.