What happiness is to the Wired Lady...
...that's right, it's a coupon for a free Crest Pro-Health Night Rinse!!!! Ahhhhh!!!! It's gonna be a wild time at Ralph's next weekend! Watch out crazy mom shoppers who love taking three times as long in line with all your fancy-shmancy coupons and discount cards. The battle is on!
Another suburb bonus for WL today...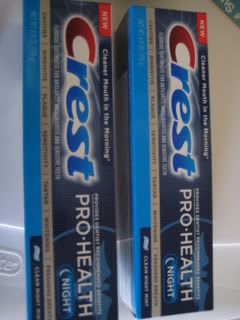 ...that's right, with the coupon in this weekend's paper (hint hint...go. now.), I fully took advantage of receiving a free Crest Pro-Health Nighttime toothpaste with...the purchase of one. Two for the price of one! Rock on.
Haven't tried it yet. I'll let you know if it truly leads to a "cleaner mouth in the morning."
Is this seriously my life?
Save This Page