Originally I thought watching the Steelers lose with these two was the scariest thing in the world...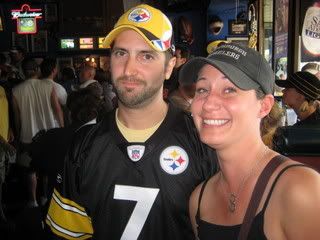 Then....I arrived at work today. What do I find on my desk?
A printout of MY blog with scribbled writing on it that read, "Are you talking about me?! Am I NAMELESS COWORKER?"
No name of who the note was from.
Um...really freakin' scary! I sat at my desk for at least an hour before I had the nerve to ask anyone about it. I thought maybe the angry co-worker would approach me first? Of course, not so much.
With a sigh of relief, I'm happy to report that the paper left on my desk was not from the actual Nameless Coworker. Phew! I was happy to reply, "Of course it wasn't youuuuu!"
Maybe if I stopped talking about people I would sleep better at night?