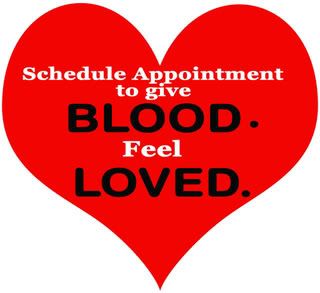 Today I called to schedule my blood donation pre-op appointment at the hospital.

I'm not going to blame it on 'that time of the month,' (although I have been known to get emotional during Dove commercials) but honestly, the kindness of David at the blood unit almost brought me to tears. The warmth, compassion, friendliness, lovingness, cheerfulness, sense of humor -- I could go on forever -- of this man....made be feel, quite frankly, all warm inside. He not only knew who I was when I called (a first in my medical life!) but the time he took to give parking instructions was immeasurable.

Some stickers read "Give Blood. Get a Hug." No way...stickers should read, "Schedule an appointment to give blood and you get a hell of a lot more than a hug -- you get a freakin' kiss to your soul."

While I am only donating one unit of blood for surgery, I wish I could give this man ten.

Think I'm a little 'sensitive ' today? Do I need to answer?

Tomorrow is a biggie -- back to the oral surgeon's office for a super-duper appointment. I'm expecting it to be an appointment with much info on pre-op, op, and post-op (totally getting the lingo down) instructions I have been dreading to hear. I am dragging Steve along...you know for emotional support and blah blah blah....but really, so he can videotape the entire thing. I'm sure it will be excellent entertainment.