Dealing with a serious sweet tooth today...and I literally found one...
a Tooth COOKIE CUTTER!


and TOOTHBRUSH/PENIS Cookie Cutter!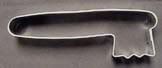 How freakin' cute!??! Definitely adding to my surgery 'REGISTRY!' Ha!
I was suppose to spend this Saturday afternoon beginning my initial surgery research (I have avoided for so long - as my stomach cannot handle it).
As you can see, Wired Lady the Procrastinator is at work.