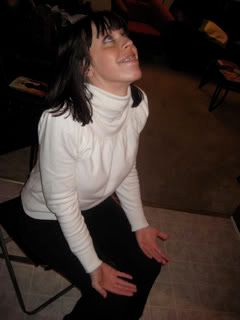 What am I doing you might ask? Welp, now that many people at work know I'm having surgery (such a dirty word...worse than 'moist', I think)...I've been getting a lot of 'advice.'
Today Alex told me he visited a chiropractor and naturally, thought of me.
(...am I 80-years-old or something? )
Anyway, medial judgement aside, I gotta say...his advice was welcomed. Alex is also a night grinder -- and I'm not talking about whatever that Latino kid was doing at Le Deux on Saturday night.
Alex shared a trick his doc taught him for neck tension. I tried the whole palms up, neck back, shoulder roll thing a few times today...I'm still...waiting for the results. But hell, I'll try anything! Anyone remember the
cork experiment?