Being the service-oriented person that I am, I thought I would take it upon myself to review LA Magazine's list of "LA's Best New Bars." I know what you're thinking,
"Wired Lady, you are truly too giving to our community." Trust me, I hear it all the time.
With that said, the nice Stephanie at work and I gather the ladies and hit up the first on the list, X BAR. Here's the review, very nice place. Very well decorated, very chic. Cool spot to hang out at...if people were there. Here's the lesson, do not go on a Saturday. This is a 'professional' crowd place, ie...CAA is across the street. Only go during the week and if, and only if, you want to hang out with these types of people.
Also, the customer service at this bar stinks. Well, mainly one, dick-head young man. Ooooh yes, he DID cope attitude with not only the Nice Stephanie but with the Wired Stephanie, as well. I have never been given a bill BEFORE the order was received. I don't care what your 'policy' is. Not everyone at this bar has a hotel room here. So, do not act like I will run out the bar with my orangetini and crab dip plate, before paying. We left shortly after this exchange.
The bar at Sofitel was cool but their valet policy is ridiculous. What would be the point of validating, if there is no discount after 9 PM? Does the valet just like the pretty green stamp?! As you can see, still holding a bit of irritation over here. And...I also have braces.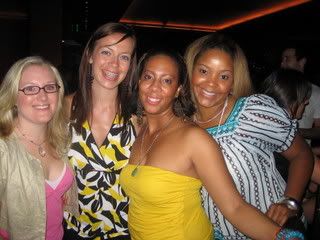 The ladies.
Rose after champagne.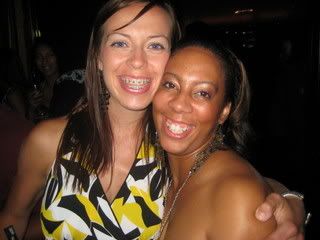 The HOT Assistants...minus wires, of course.