Tonight Marissa and I stereotypically attended the big 'industry' party in Hollywood. This party is code-word for...all wanna-be assistants in Hollywood. So, of course/sadly, I fit the bill.
Below is an example of why I hate clubs:
Creepy dude: I love your braces.
Wired Lady: Oh. Yeah?
Creepy dude: Yeah. I have a big fetish with young girls.
Real exchange.
Epilepsy.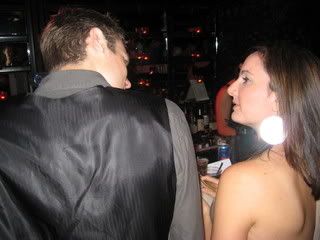 Spittin' some game.
Marissa, cute. Stephanie, gross.