Last night the braces took a vacation.
First - the girls and I went to the John Mayer concert (insert swoon) at the Hollywood Bowl. Let me tell you, totally cool!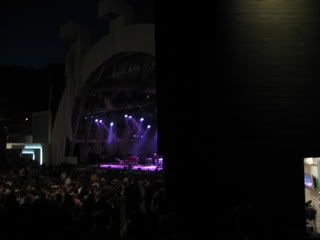 Even though this was my view. HA! They don't lie when they say 'obstructed view' before purchasing on Ticket Master
But nonetheless, I love that I can actually walk to the Hollywood Bowl from my apartment. With the thousands and thousands of seats in that place, it was completely insane that we end up sitting next to a girl we went to high school with. How freakin' random is that!? Shannon and her drunk friends were a total blast.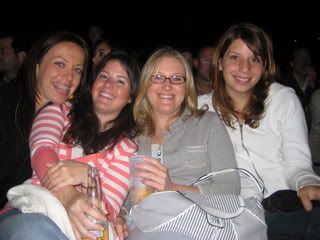 Shannon (class of '99) on the right
So, back to the braces. The important thing to remember about having braces as an adult is...concerts are your friend. Why? Darkness!!!!!
Next on the agenda - Michael Busch's birthday party at the most random of all places...the basement of the Ramada Inn Hollywood. Another excellent stop for the girl with braces. Why? Also...darkness...comedians...and an old-school DJ.
This picture accurately depicts the sketchiness of the evening. Rose looks like she's on a coke binge